Do you want the toughest nerf step bars around? Westin's HDX Stainless Drop Nerf Step Bars are built with corrosion-resistant, black powder-coated stainless steel so your bars stay strong and perform well under the toughest of conditions.
Features Of HDX Stainless Drop Nerf Step Bars: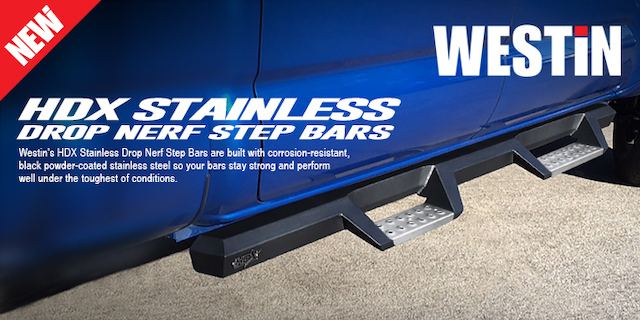 Corrosion-resistant black powder coated 410 stainless steel
Die-stamped stainless steel step areas for maximum traction
Notched bar design with heavy-duty removable step plates
Fits tight to the rocker panel for a solid fit and rugged look
Bolt-on installation
Built with 1-piece construction, these Nerf Step Bars are solid and tough. They also provide over 2 more inches of step area than our competitors. These HDX Stainless Drop Nerf Step Bars have a simple bolt-on installation and include a mount kit. No drilling is required. For more on the benefits of running boards for your off-roader, read our blog here.