SEMA 2022 was another awesome event, and Westin and Superwinch were on hand to display some of the latest off-roading gear. Westin has been a regular at the SEMA show for years and has taken its share of awards along the way.
---
---
Check out our coverage of the event here. You'll see a sneak peek of some specialty products we're working on. Continue reading below and you'll also find links to several products already in production that you can add to your own build.
SEMA Day 1 Builds: Ford Bronco And Lighting
2022 Ford Bronco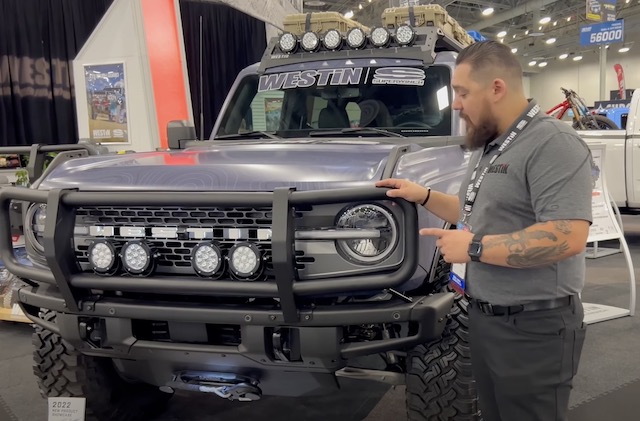 The 2022 Ford Bronco on our stand had the full XTS pack, including a Mesa Roof rack. The XTS Brush Guard we fitted to this model works with the stock steel bumper or Pro Mod bumper. And features cool integrated rotating light bars.
The XTS Rock Sliders are a complete bolt-on unit, giving easy access to the roof, where we mounted a Mesa Roof Rack. It also requires no drilling and is mounted high enough to allow the vehicle roof panels to be removed.
The XTS rear bumper comes fitted with optional LED lights. And, the XTS rear swing-out holds up to a 37-inch tire. You also get accessory mounts for jacks and other items.
To finish it all off, the side-mounted Grate Step has a pinch weld cover to give the vehicle a smooth OEM look. Both the step and cover all bolt-on, so installation is super easy.
2022 Ford Lightning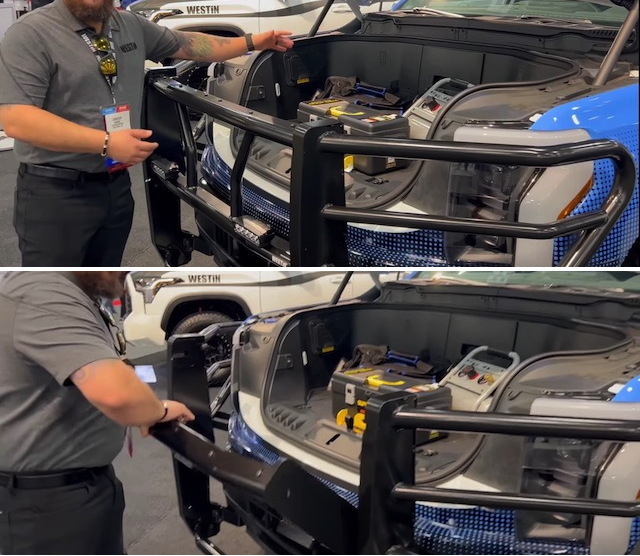 The all-electric Ford Lightning is one seriously cool truck. So, we designed an HDX-e grille guard just for this vehicle. It gives full access to the frunk and even includes a folding center section for easy loading.
The power side step is another of our kits that requires no drilling and looks like an OEM part, thanks to its clean design.
The Pro Series Rear bumper is a rugged one-piece unit with integrated LED lights. It works with all the stock sensors, too. We also installed our HDX Hitch Receiver step for easier access to the bed where our bed-safe and full crossover toolbox are mounted.
On the right side of this truck, we fitted our R5 Wheel-To-Wheel Nerf Step bars. They were also fitted with optional lighted end caps. This kit includes our Westin isolator bracket and covers.
SEMA Day 1 Builds: Toyota Tundra And Mercedes Sprinter
2022 Toyota Tundra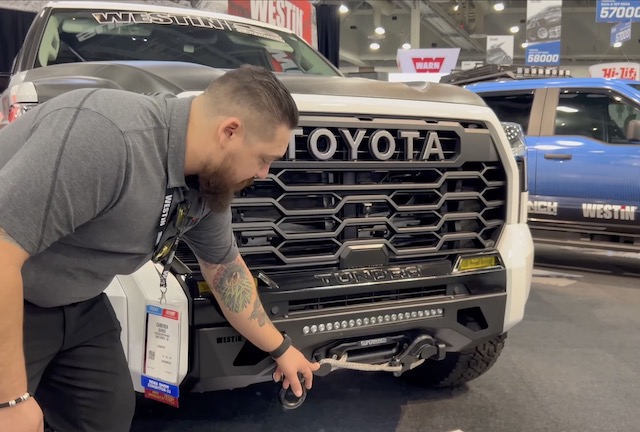 The Toyota Tundra's front has been upgraded with our XTS Front bumper. It is compatible with all stock sensors and fits both the SX10 and SX12 winches. It is also fitted with a hook keeper and a 20-inch LED light bar. Aside from cutting out the center section of the stock bumper, this XTS unit is fully bolt-on.
Moving to the rear you see the Pro Series Rear bumper. It is fitted with the FM6 flush-mount lights and works with all stock sensors. The swing-out hitch incorporates a camping table and has mounts on the side for jacks and other accessories.
Lastly, we installed our bolt-on Outlaw Drop Nerf Step Bar. The lowered step allows easy access to the cab, and it finishes off this truck's rugged look.
2021 Mercedes Sprinter Van
The Mercedes Sprinter van makes for a great off-roader. With the right accessories. We fitted a solid Pro Series Mid-Width bumper to the front. It requires some bumper trimming but is otherwise bolt-on. Then we added an SX12 12,000-pound winch, and the smaller SX10 unit fits as well. The ACC sensors are relocated to ensure that your cruise control works perfectly.
The Outlaw full-length step bars give the Mercedes Van a cool look and make it easier to access the Mesa roof rack. The flush-mounted ladder is an essential accessory if you are making use of the roof rack. Both the rack and ladder use factory mounting holes.
The rear of the Sprinter Van has an XTS tire carrier (fits up to 33-inch tires), XTS cargo mount, and Outlaw rear step. The step does not replace rear bumper, so all lights and sensors remain in place.
SEMA Day 2 Builds: Toyota Tacoma And Ford Bronco
2021 Toyota Tacoma
On day two we focused on our Overland Experience Area. First off, we looked at the 2021 Toyota Tacoma. It was kitted out with a full array of Westin off-road gear.
At the front we fitted a mid-width front bumper. It is a bolt-on design but does require the center section of the stock bumper to be trimmed out. All stock sensors remain so your park assist and cruise control will work as normal.
This truck had an SX10 winch fitted, but it can also take the larger SX12 12,000-pound version if required.
The Outlaw Step Bar bolts on without any drilling or cutting, making it easy to climb into the cab and access the Mesa Roof Rack as well.
Overland cargo racks are an essential accessory for any true off-roading enthusiast. The one fitted to the Tacoma is fitted to factory mounting points and can take tons of equipment. We fitted a jack, rooftop tent, and sand tracks to this one.
To round off the package, we fitted a Pro Series Rear Bumper with XTS Rear Tire Carrier. This setup still gives you full access to the rear hitch and is bolt-on.
2022 Ford Bronco
The Bronco already looks cool as standard, but a few Westin accessories really help it stand out from the crowd.
The rear of the Bronco gets the Pro Series Rear Bumper and our license plate relocator with integrated light. The HDX Drop Steps suit the Bronco well and require no drilling to fit.
A Mesa Roof Rack allows for the fitment of various accessories. This one has a rooftop tent. The rack does not need to be taken off to remove the vehicle's front and middle top sections.
Up front we went all out with our XTS range. We fitted an XTS Bumper, brush guard, and skid plate. The factory sensors remain fully functional. The final touch was an SX12 synthetic winch with a hook keeper.
Westin At SEMA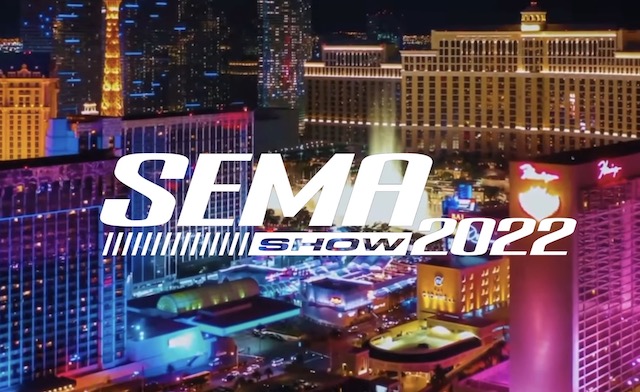 Established in 1963, the Specialty Equipment Market Association (SEMA) show is considered the world's premier automotive trade show. The 4-day event hosts over 160,000 visitors and recognition at SEMA shows that your products can compete with the best from around the globe.
We have been an industry-leading manufacturer of quality automotive aftermarket products for Trucks, Jeeps, and SUVs for more than 40 years. Our products are engineered for enthusiasts. And SEMA is the perfect venue to show them exactly what we're about.
Westin Automotive has received several awards at the show over the years. We were nominated to the top 10 Jeep builds for the second year in a row at the 2016 SEMA Show by Transamerican Autoparts. And were finalists in 2015 and 2016 for the "Data Geek Award". We were also the recipient of the "Vendor of the Year Award" for 2016.
Being recognized at this level shows the quality of our products. But it's our customer's opinion we value the most. So be sure to visit us at our stand at SEMA in 2023 from November 3-4.