What's better than equipping your truck or Jeep with the latest Westin off-roading gear? Testing it out on an off-road trail of course. That's exactly what Westin Automotive did this January at Utah's 2023 Winter 4×4 Jamboree.
A World-Class Rock Crawling Event
If you want to test your off-roading skills and push your 4×4's capabilities to the max, there's only one place for it. The Winter 4×4 Jamboree is held each year in Hurricane/St. George, Utah. This awesome event over 35 different trails around Southwestern Utah.
It's a non-competitive event that's suited to novices and experts alike. Take your Westin-equipped off-roader and test your skills on trails ranging from simple to serious. Aside from the off-roading, there's food, live music, and entertainment for the whole family.
Off-roading enthusiasts love this event. Kevin Keller, a regular attendee, had this to say:
"Thanks to the amazing leadership at the Desert Roads and Trails Society! The Jamboree is absolutely the best off-road gathering in the country. I plan my whole year around it!"

Kevin Keller
2023 Winter 4×4 Jamboree
Over 35 trails
Trail difficulty ratings from 1 to 10
Non-competitive event
Suited to full-sized trucks and Jeeps
Entertainment for the whole family
Run by dedicated volunteers for the non-profit DRATS
Engineering high-quality automotive aftermarket products is our passion. And just like our customers, we are die-hard off-roading enthusiasts, too. This year's winter 4×4 Jamboree was the perfect event for us to push our products to their limits and have fun doing it!
The Jamboree features world-class rock crawling trails. Combined with breathtaking views of Zion National Park, Pine Valley Mountain, and Sand Hollow Reservoir.
With trails ranging from mild to wild, our crew jumped straight into the toughest trails. Check out our coverage of the event here.
Jon Pierce, back for a second time, had a blast:
"Thank you so much! This was our second year at Winter 4×4 Jamboree. We had the best time, and we were fortunate enough to meet so many wonderful people! Can't wait to see everyone in 2024!"

Jon Pierce
We've become Winter 4×4 Jamboree addicts too, check out our video of us at the 2021 event here. Tackling the more serious trails requires serious equipment. How far you take it is up to you, we have everything you need, from bumper guards to winches and more.
Engineered For Enthusiasts By Enthusiasts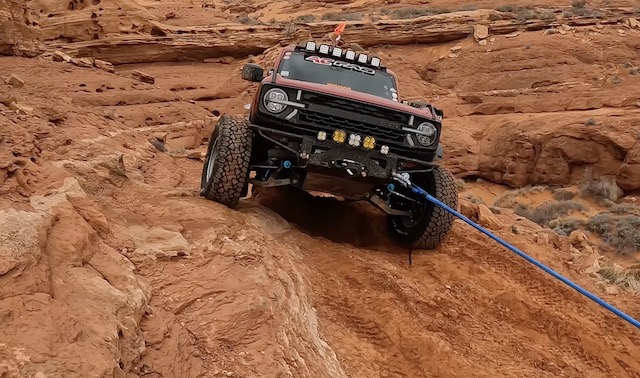 Want to see what a Westin-equipped truck or Jeep is capable of? Check out our event videos here. Westin Automotive has over four decades of experience in designing high-quality aftermarket products.
We have a wide range of quality products for your truck, Jeep, or SUV. We stand by our products with a comprehensive warranty policy. Get in touch with our team today. And get your truck ready for the 2024 Winter 4×4 Jamboree event.