Your Jeep is a supremely capable off-roader. But it can do so much more with the right accessories. At Westin Automotive all our products are engineered for enthusiasts like you. Read on to learn why an aftermarket bumper is the perfect upgrade for your Jeep.
Why Add An Aftermarket Bumper To Your Jeep?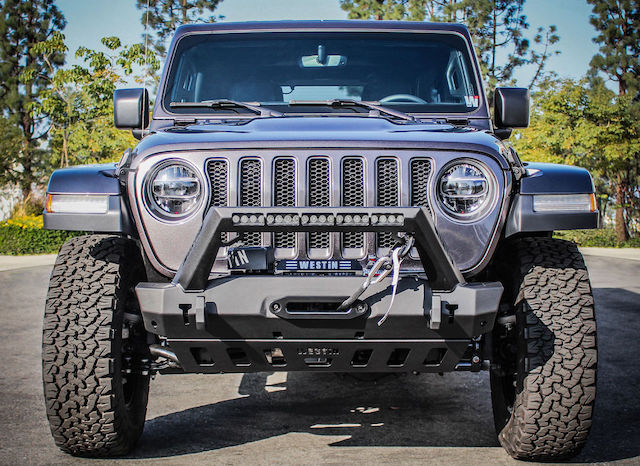 Do you need improved off-road protection? A solid mounting point to install a winch? Or maybe you just want to enhance the look of your Jeep. Westin Automotive has high-quality bumpers that offer many features and benefits:
Improved off-road protection
Winch mounting points
Allow for extra recovery points
Mount extra LED lights
Increase tire clearance
Enhance your vehicle's style
Standard Jeep bumpers are not always designed with off-roading in mind. Most are made from either aluminum or plastic. You need something a lot tougher than that when the going gets tough.
Westin Automotive Jeep bumpers all have a 3/16-inch plate steel construction. This makes them extremely tough, which offers you more protection. They also offer extra recovery points – essential on tough off-road trails.
You may opt for a bumper with integrated winch mounting points. These will allow airflow to the radiator at all times. Depending on the bumper design, you can also choose one that will increase your front tire clearance. Perfect for overcoming large obstacles on the trail.
Some of our bumper designs come with integrated LED light bar mounts. Perfect for venturing off the beaten path at night. They provide more light than conventional headlights. And allow you to see obstacles well in advance.
Which Aftermarket Bumper Will Suit You Best?
Westin Automotive stocks a wide range of Jeep bumpers. Take a look at the variations we offer:
Front Bumpers:
Full width
Stubby
With or without bull bars
With or without LED Light bar mounts
Integrated winch mounting option
Rear Bumpers: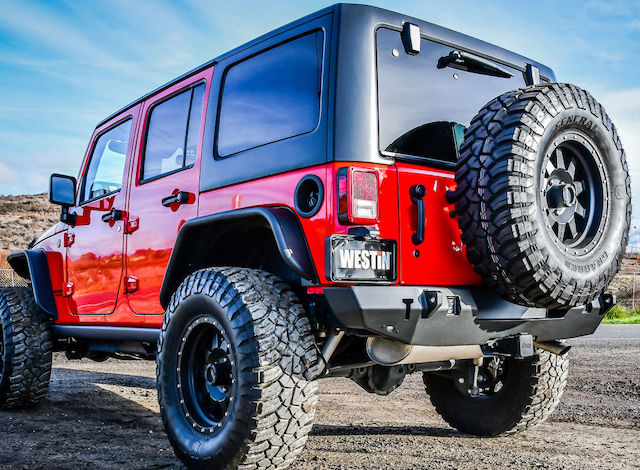 All with integrated jack points
With or without a tire carrier
All our bumpers are made from high-quality steel and have a simple bolt-on installation. Front bumpers offer integrated winch installation. Both front and rear bumpers offer extra off-road jack points. Every bumper comes with all required hardware and installation instructions.
Order Your Jeep Bumper From Westin Automotive
Westin® Automotive has been engineering high-quality aftermarket products for enthusiasts for over 40 years. Our products include winches, bull bars, bumpers, and toolboxes. We make them for a wide range of trucks, Jeeps, and SUVs. Our products are built to the highest standard and are covered by a comprehensive warranty policy.
Enhance the safety and style of your vehicle and order your Jeep bumper today. Find a Westin dealer in your area here. Or contact our Westin Automotive team online.