When modding their vehicles, most off-road enthusiasts tend to focus on the big stuff. Things like sliders, winches and bumpers. All necessary items, but to build the perfect off-roader, you shouldn't skimp on the smaller items either. That's what makes the difference between a good 4×4 and a great one.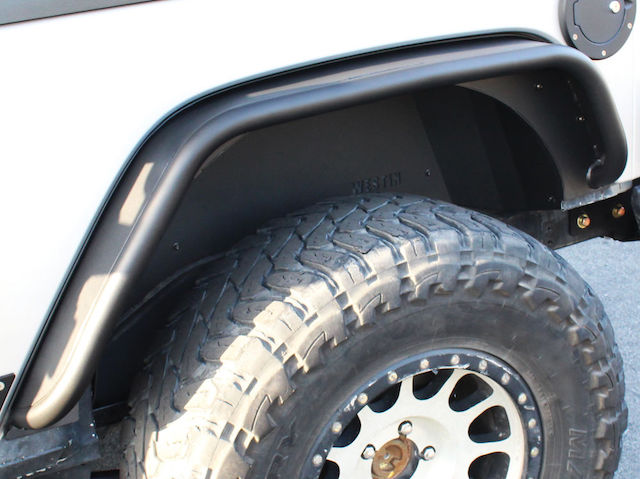 Inner fenders, floor liners and hitch steps are just some of the off-roading essentials you might overlook. In this blog, we cover these items and more, to ensure that your off-roader is ready for anything. Let's take a look at these essentials:
Inner Fenders
Floor Liners
Tool Storage
Hitch Steps
Cargo Management
Inner fenders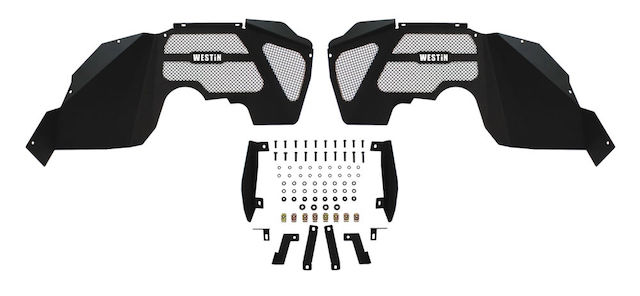 Inner fenders protect your vehicle from rocks and debris. There's nothing worse than damaging your expensive shock absorbers or bodywork while on a challenging trail.
Westin offers both front and rear inner fenders for your JK Wrangler. They are simply bolt-on when using our front and rear tube fenders and need only minor trimming for OE front fenders. Our front inner fenders have mesh covered openings to provide engine compartment ventilation.
Made of 16-gauge steel
Protection from rocks and debris
Designed to fit with Westin's Front and Rear Tube Fenders
Textured black finish
Hardware included
3-year warranty
Floor Liners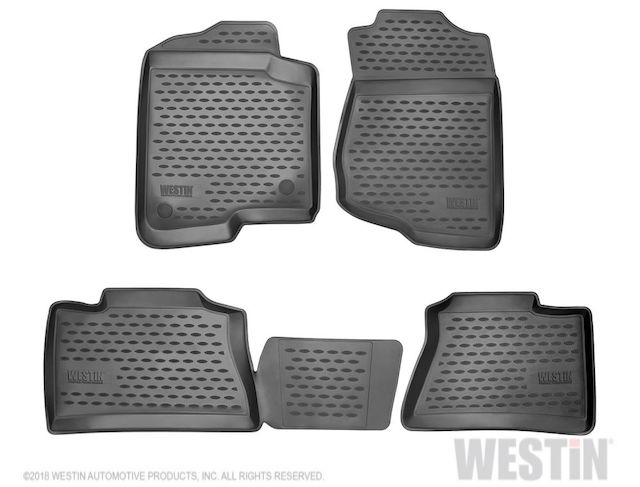 A sturdy floor liner will help keep your vehicle's interior clean. Muck and grime can easily damage your carpets, our floor liners are designed to offer heavy duty protection. They stand up to extremely tough conditions and are easy to clean.
Westin's new Profile Floor Liners are constructed with flexible, durable and odorless rubberized polymer that keeps your vehicle's passenger and cargo area floors clean no matter what elements you face. Our designs contour to your vehicle's floor area and protect the carpet from extreme wear and tear in tough situations.
Featuring a raised, textured surface that provides strong traction, Westin's Profile Floor Liners give you the precise fit you want and maintain their shape in both extreme heat and cold. Trust Westin to take your ride to the next level with the distinct look and heavy duty protection you need!
Protects vehicle carpet from daily wear and tear – Great for use in all seasons
Easy to install and clean
Made of flexible, durable and odorless rubberized polymer
Liners maintain their shape in heat, cold and from heavy loads
Designed to contour vehicle floor area
Up to 2-inch lip around liner edge keeps spills and debris contained
Raised textured surface for strong traction
Application specific designs available for trucks, cars, and SUVs
Available in black.
Another option, our Sure Fit Floor Liners, consist of front, second and third row cargo and floor liners in custom full-coverage designs. Westin liners are made of rubberized copolymer with a rigid core and tactile surface.
Front row driver and passenger areas are digitally measured for the most accurate fit. Sure Fit Floor Liners come equipped to accommodate OE retention hooks where applicable. Please note that Sure Fit Floor Liners will not fit vehicles with vinyl floors.
Full coverage designs with door seal coverage on most applications
Rigid core and tactile surface
Equipped with OE retention hook openings and 3M securing points
Available for most trucks and SUVs in black, gray or tan finish
Tool Storage
Having a secure place to store your tools while on the road is a great idea. You never know what you'll need when off-road, so a sturdy toolbox that can carry all your tools is an essential item to have.
Westin offers 22 different Brute toolbox designs, suitable for just about every need. These are some of our most popular models:
Full rubber weather seal
Sit below side rails, perfect for 5th wheel trailers
Full metal guards on gas props
Brute High Capacity HD Topsider
.100 thick diamond tread aluminum construction
Welded gussets in each corner of door frame
Overhead rain gutter
Roller cam latch
Beveled lid design
Full rubber weather seal
Sturdy hinge points
HD aluminum adjustable tray
Hitch Steps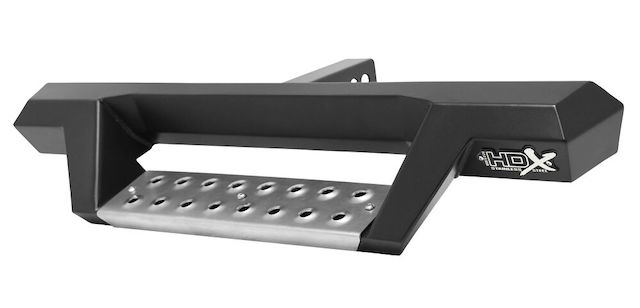 Raising your truck's ride height or fitting large off-road tires will make it harder to access the cab, roof rack or load bed. A Hitch step is the perfect solution. Westin offers a variety of high strength designs with simple no-drill installation. Check out these popular hitch steps on our site:
Attractive modern style, compliments Westin HDX Drop Nerf Steps
Manufactured using high strength E-Coated Steel
Textured black powder coated finish
Steps slides into any standard 2-inch receiver hitch, and installs in seconds
Serrated edges help clean dirt, snow and mud off your boots to keep the cab clean
Aggressive ¼-inch high punched tread allows for traction in any weather condition
Stylish rectangular shape, compliments Westin Grate Steps Running Boards
Step weldment slides into any standard 2" receiver hitch, and installs in seconds
Triangular shape hides mounts
Attractive modular style step pad, compliments Westin R5 Nerf Bars
Cargo Management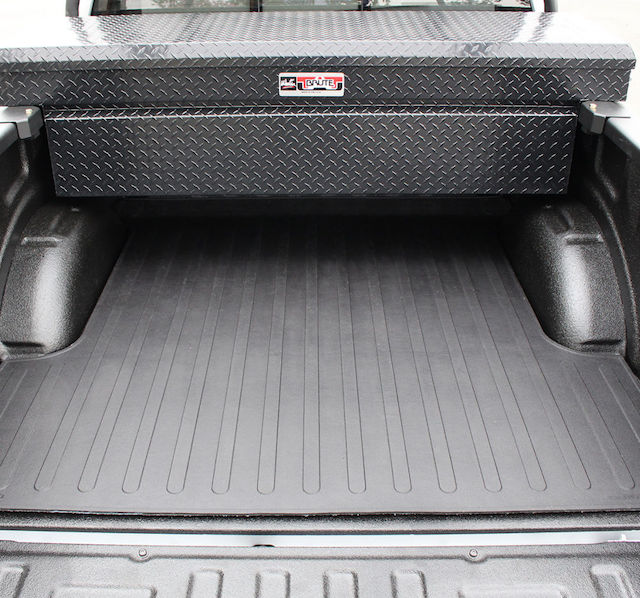 A truck bed and tailgate damaged from the dings and scratches caused by shifting cargo is never a good look. It lowers the value of your truck and is not practical to repair. Truck bed and tailgate mats are designed to protect your vehicle from this type of damage.
Choose from our custom-cut Westin truck bed and tailgate mats or universal-fit options. Our truck bed and tailgate mat features include:
A ribbed, non-slip surface to help keep cargo in its place
Can be used with or without a spray liner
Are made of 100% recycled rubber
Are made in the USA
Come with a 3-year warranty
Some other popular cargo management equipment from Westin include our Platinum Oval Bed Rails (these are perfect for securing cargo and equipment) and our Truck-Pal Tailgate ladder. This lightweight aluminum tailgate ladder is rated to 300 lbs and fits open tailgates up to 38-inches high. This is also a great addition if you've got a pop up truck camper.
Get Your Off-Roading Essentials From Westin Automotive
Westin Automotive has been an industry leading manufacturer of quality automotive aftermarket products for Trucks, Jeeps, and SUVs for more than 40 years.
We have a huge range of off-roading essentials for your vehicle. Including inner fenders, floor liners, toolboxes and more.
We offer a comprehensive warranty on all our products. Contact Westin Automotive today, and make sure your off-roader is prepared to face any challenge.