King Of The Hammers is the toughest test of man and machine you'll find anywhere in the world. This event is a week of one-day, off-road races on public lands in Johnson Valley, California. It caters to the most built off-road machines you can imagine.
The event was first held in 2007. Growing from 12 teams racing for the heck of it – and a case of beer – to over 530 teams competing for various prizes. The race is watched by over 2 million people online. And up to 80,000 people head out into the desert each year to see it all firsthand.
And that's what Westin | Superwinch did this year. We joined hundreds of competitors between February 2-11 to take on the harshest tracks and trails you'll find anywhere.
KOH 2023 – The Details
King Of The Hammers has become a huge extravaganza over the years. Each year the National Ultra4Racing Series features as the qualifier for the King Of The Hammers for the following year. But at its core, it remains the toughest off-road challenge around:
Over 80,000 spectators
530 competing teams
2 million+ online viewers
No chase race – means no team to help during a breakdown
Six unique classes to cater to a diverse range of off-road vehicles
It all started with the 4400 Unlimited Class. This is the original class for all KOH competitors. And aside from requiring a transfer case and 4×4 system, the only other requirement is that all vehicles must meet safety standards for the class.
There are also three popular classes that are eligible to take part in the Every Man Challenge (EMC) during the KOH race week.
The first is the 4500 Modified Class. It allows changes to the OEM chassis, up to 37-inch tires, and 2.5-inch diameter shocks. The 4600 Stock Class, meanwhile, must use a stock frame, transmission, and engine. Larger 35-inch tires are allowed, as are 2.5-inch diameter shocks. Finally, 4800 Legends Class vehicles must have front-mounted engines, solid axles, up to 37-inch tires, and two seats next to each other.
There's also the 4900 UTV Class, Electric Vehicle Class, and Desert Class group. This is further divided into five sub-categories. In essence, if you have an off-roader, there is a class for it.
There are plenty of contests during the almost two-week extravaganza. But it all boils down to five main races culminating in the headline event: The Nitto Race Of Kings. Pitting the best drivers and their vehicles against each other.
Westin | Superwinch At the KOH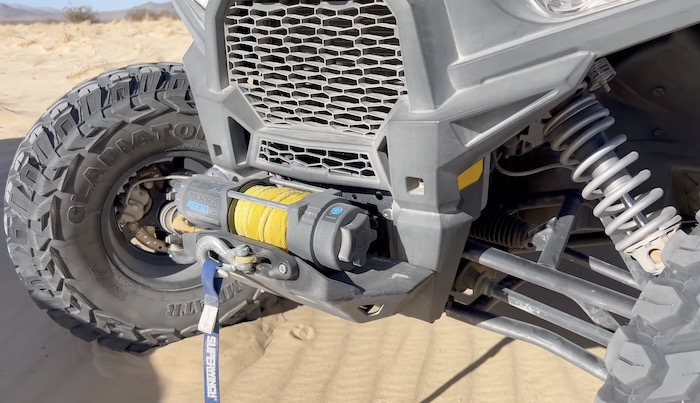 King Of The Hammers is widely known as one of the toughest motorsport events around. Quite possibly anywhere. The perfect setting then for us to put our products to the test.
To make the grueling conditions even more challenging, this is a no-chase race. That means no crew to come and rescue you if (or when) you break down. That's why every Westin | Superwinch vehicle was specced with all the best gear and spares to make it to the checkered flag. To give your Jeep or truck the best chance to make it through the event in one piece, take a look at our list of KOH essentials.
The Westin | Superwinch Essential Kit List For KOH:
And, of course, plenty of sunscreen, water, and a full set of tools! Get a taste of the KOH here with a quick look at our video coverage of the event for 2023.
Westin has been an industry-leading manufacturer of quality automotive aftermarket products for Trucks, Jeeps, and SUVs for more than 40 years.
Our products are built to withstand the harshest conditions, and we back them with a comprehensive warranty policy. Call our team today and get your 4×4 prepped for the 2024 KOH. It's going to be epic.