When you're ready to upgrade the appearance and functionality of your vehicle, step bars, running boards, and rock sliders are popular ways to do it. All these options provide an extra boost that makes entering and exiting your vehicle easier. But, beyond that shared purpose, they vary widely in their function. Let's explore the benefits and differences between step bars, running boards, and rock sliders.
The Benefits of Running Boards And Step Bars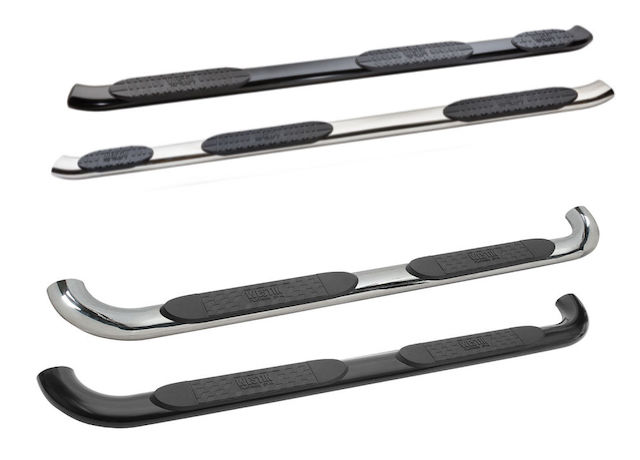 Running boards and step bars offer many of the same benefits. They are designed to blend seamlessly with your vehicle's style. They're typically constructed out of stainless steel and aluminum and are available in various finishes. Step bars and running boards can be easily customized to match your vehicle's look. This level of personalization allows for a more polished and unique appearance.
The primary purpose for adding boards or bars is to provide a comfortable and secure platform for passengers to step on while entering or exiting the vehicle. This added convenience is especially helpful if you drive a full-size or heavy-duty truck, Jeep, or SUV. Additionally, many come with non-slip pads or grip inserts, ensuring secure footing in various weather conditions.
When comparing the costs of bars/boards and rock sliders, step bars and running boards are generally more affordable and are available for many makes and models. The lower price point makes them a popular choice for drivers looking to enhance their vehicle's appearance and functionality without breaking the bank.
The Advantages Of Rock Sliders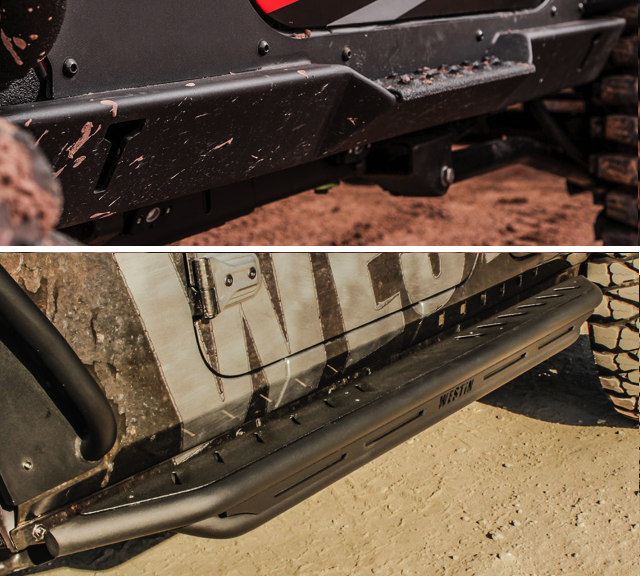 In contrast, rock sliders are more rugged in design and are made for serious off-road protection. Although rock sliders can also be used as a stepping surface, they are primarily designed to protect the vehicle's underbody and side panels during off-road adventures.
Rock sliders are built to withstand the hazards of off-road driving and are typically more expensive due to their heavy-duty construction and materials. It's common for them to weigh 2-3x more than running boards, which is a plus when you're looking for rocker panel protection. Rock sliders are built strong and fit tighter to the body of the vehicle. They can still be used as entry steps, but normally have a smaller, less secure step surface.
The Difference
Rock sliders are specifically designed for off-road vehicles such as trucks, SUVs, and Jeeps. They're made to be a perfect fit for various trail-riding vehicles for optimal performance and protection. As such, they're not available for as many makes and models as running boards and step bars and can cost a bit more. Rock sliders are there to offer protection for your off-roader's underside in rocky terrain.
Running boards or step bars are the answer if convenience, looks, and cost are important factors. They'll help with entering and exiting, and they'll look great while doing it. They'll offer limited protection for light off-roading but are more suitable for daily commuting.
Step Bars, Running Boards, And Rock Sliders From Westin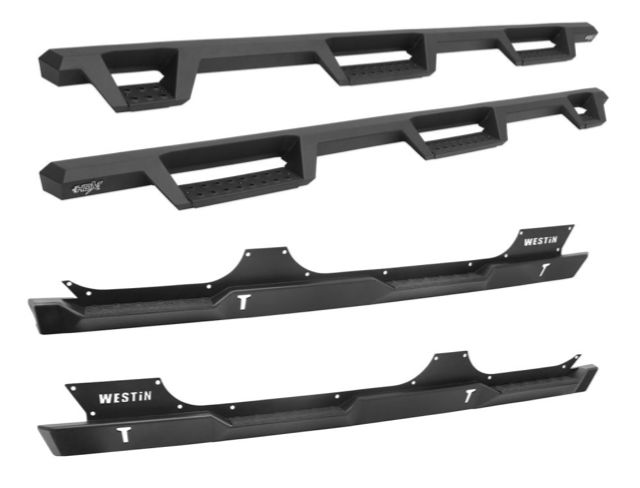 Both rock sliders and running boards/step bars have their merits. Deciding which to install depends on your needs. Looking for off-road performance and protection? Or, are looks and convenience more important to you?
Westin Automotive has over 40 years of experience in designing high-quality aftermarket products. If you need help deciding, contact us and we'll be glad to help. We have a wide range of quality products for your truck, Jeep, or SUV, and we stand by our products with a comprehensive warranty policy.